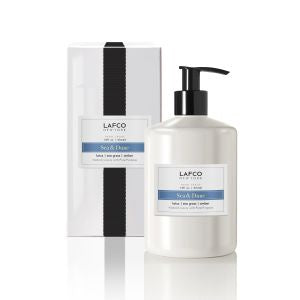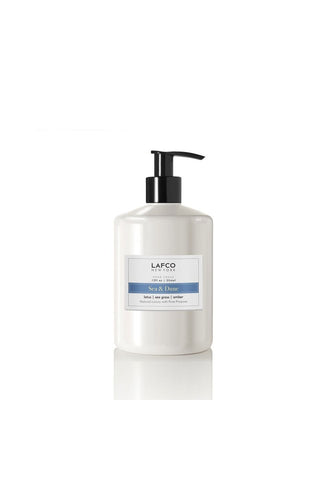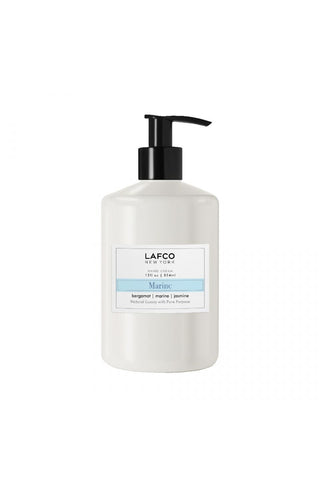 Lafco
Lafco Hand Cream
Regular price $28.00 Sale
Our hand creams are made entirely from plants, so you can safely use them as often as you like. Use our hand cream after each wash with our bar or liquid soap to seal moisture in. Our hand creams are designed to moisturize and repair, offering the attention every pair of hands deserves. A dime-sized amount of cream is enough to cover both hands.
Beach House

The drive took forever, but you have arrived. As the car door opens, the rush of salt embraces you. Running barefoot through the gentle hills of sand, stiff slivers of grass sneak in between your toes as a faint rumble of thunder is heard in the distance.

Watery blue lotus and beach grass settle into an amber-sand accord with a tiny hint of ginger.
Chamomile Lavender
Master Bedroom

The understated luxury of freshly-laundered, turned-down bedlinens. Nearby, a delicate arrangement of lavender sprigs rests on the adjoining bedside table as the sun begins to set. Tranquility at its chicest.

Crisp bergamot and warm chamomile melt into a calm undertone of lavender, sage, eucalyptus and smoky patchouli.
Champagne
Penthouse

Step onto the penthouse's terrace to a civilized Sunday brunch overlooking a blanket of green that is the park below. A platter of grapefruit dotted with raspberries is offered. Would you like ginger tea, a mimosa or a glass of champagne? Perhaps a taste of each?

Sparkling grapefruit, Tuscan lemon and ginger are gently calmed by rose, neroli and verbena.
Marine
Bathroom

Harmless waves slap against the kayak as it glides its way toward the shore under the late afternoon sun. The intoxicating sea air is suddenly enhanced by wet floral notes of water lily, sea jasmine and rose as the boat paddles closer to landing.

Clean and luminous marine notes work their ozonic magic on bergamot, jasmine and vetiver.