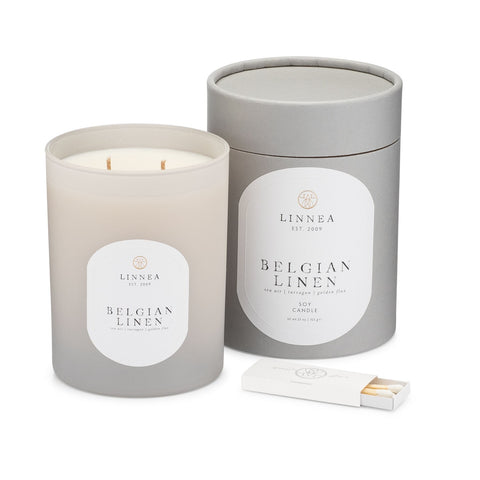 Linnea's Lights LLC
Linnea 2-Wick Candle
Regular price $42.00 Sale
Linen
Favorite Sheets lay drying under the midday sun, the golden flax fields of Belgium lazy Sunday mornings. Sea Air, Terragon, Golden Flax
Cahmere
Soft and Sensual Cashmere drapes the skin, comforting warmth on a brisk day, memories of home, Chamamile, Amber Woods, Patchouli
Petals
Fresh starts and new beginnings, summer romance, the ephemeral beauty of the peony. Peony, Green Stem, Ambergris
Freesia
Succulent Anjou Pear, the blooming and fragrant freesia, a subtle spring breeze. Anjou Pear, Freesia, Vetiver
Nectar
Climbing Wild Jasmine, afternoon naps under a dense canopy of trees, golden ripe fruit, just out of reach. Apricot, Wild Jasmine, White Musk
Sea Salt
Crashing waves mist the air, a complex mineral of freshly-harvested salt from the Mediterranean, the pursuit for tranquility, Fresh Citrus, Ocean Mist, Kelp
About Linnea's Lights: A woman-owned, family-driven luxury brand of home fragrances built upon a foundation of quality and craftsmanship. From the introduction of their iconic double-wick, small-batch soy candle in 2009 to the present day, Linnea's core values remain constant: their products are made with mindfully and ethically sourced materials, every step of their process involves the touch of human hands, each product is designed and packaged locally in their Midwest studio, and they partner with local and global causes to help make the world a better place.
- Soy wax, fragrance oil, cotton wick, glass
- Double wick
- 60 hour burn time
- Scent: Seashore
- Hand-poured in the USA
11 oz.