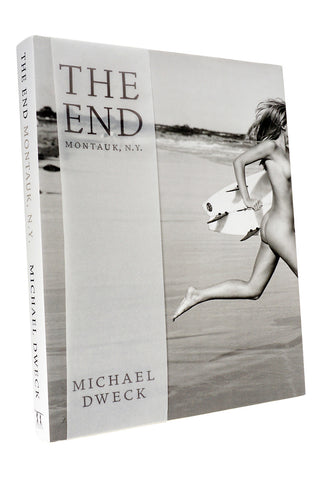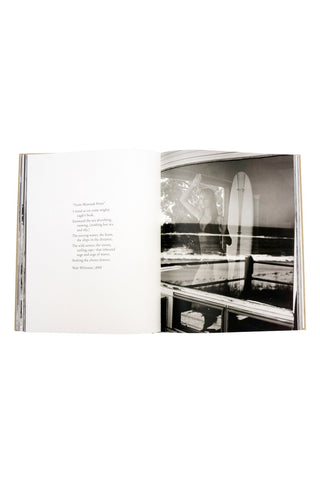 Ditch Plains Press
The End:Montauk, NY By Michael Dweck
Regular price $150.00 Sale
Published by Ditch Plains Press, New York, 2015
226 pages, 260 duotone plates, 15 color plates, 11" x 14", 3 gatefolds
Cloth bound with dust jacket
Edition of of 2700
The limited edition printing – originally hailed as "the ultimate homage to the sun-kissed surfing life…" – will feature 85 previously unpublished photos, and reflective essays by both Dweck and artist Peter Beard.
Originally published in 2004, The End presented an idyllic and erotic portrait of the famed Long Island, NY, fishing community, and offered an idealized glimpse into the lives of the beautiful denizens who comprised its surfing subculture. From the dunes of Montauk's secret surfing haunts, Dweck's first major photographic work told a paradisiacal narrative about summer and youth, which blended idealism and documentation to reflect a place and a way of life both fading and being reinvented. The original run, as the New York Times noted, "sold out its first printing of 5,000 books in less than three weeks," and became an instant classic, fueled by its groundbreaking narrative form, and now-iconic images like the cover's nude, "Sonya", "Dave and Pam in their Caddy", "Adriana" and "Lilla."
The expanded 10th anniversary edition of The End (Release date: October 1, 2015) examines the legacy of the original, but also addresses – via notes from Dweck and Beard – the changes that Dweck predicted when he first turned his camera to Montauk in early 2000.
A portion of the proceeds from the sale of The End: Montauk, N.Y. will go towards maintaining the waterways and beaches of Long Island and the U.S. through the Surfrider Foundation and Oceana.
Also available in three Art Editions (No. 1-100, 101-200, 201-300) each with a silver gelatin photograph signed by Michael Dweck.
More Details 
The End: Montauk, N.Y. 2015 by Michael Dweck
Large format hardcover: 27.94 x 35.56 cm (11 x 14 in.) 226 pages, 260 duotone plates, 15 color plates, 11" x 14", 3 gatefolds
Release date: 2016
Essays by Michael Dweck, Peter Beard and Rusty Drumm
Published by Ditch Plains Press
Printed and bound in Italy
ISBN 978-0-9818465-1-4
Clothbound with dust jacket
Edition of 2700